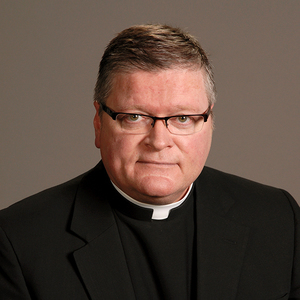 Father Darrin Connall
Host of Walking in Faith with Bishop Daly
Father Darrin Connall, Vicar General, was ordained May 29, 1992, at the Cathedral of Our Lady of Lourdes in Spokane by Bishop William Skylstad. He is a native of Spokane, having attended Trinity Catholic School, Central Valley High School, and Bishop White Seminary at Gonzaga University. He completed his formal studies for priesthood at the Catholic University of America in Washington, D.C.
Fr. Connall's first assignment was as parochial vicar at St. Thomas More Parish in north Spokane. After serving there for two years, he served as pastor of the parishes in Colville, Northport and Kettle Falls. During Fr. Connall's time in Stevens County, he served as co-director of vocations. In 2000, he was assigned as rector of Bishop White Seminary, Director of Vocations, and Director of Seminarians. During his assignment at Bishop White Seminary, Fr. Connall oversaw the construction of a new seminary building that included administrative offices, a chapel, and a residence.
In July of 2011, Fr. Connall was appointed rector of the Cathedral of Our Lady of Lourdes, where he continues to serve today. During his tenure, he was diagnosed with cancer, and through his illness he remained dedicated to his parish. In 2013, he began oversight for renovation of the cathedral as it enters its second century, revitalizing the church building and ensuring its vitality for the future.
In 2015, Fr. Connall was appointed vicar general of the diocese and serves as the bishop's assistant in the executive governance of the diocese. He continues to serve as both rector of the Cathedral and vicar general of the diocese.
Father Darrin Connall has hosted 54 Episodes.