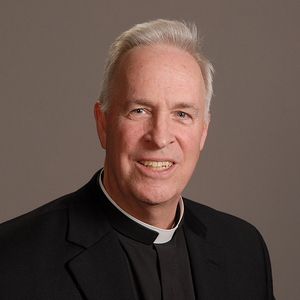 Father Brian Mee
Host of Walking in Faith with Bishop Daly
Father Brian Mee, Vicar for Finance, is a native of Spokane having grown up with his four siblings in Spokane's Perry District. The Mee family was active in Sacred Heart Parish, where the children attended Sacred Heart School, which has since consolidated with St. Augustine to become Cataldo Catholic School.
After grade school, Fr. Mee left home to attend Mater Cleri Seminary in Colbert. Upon graduation from Mater Cleri, he continued his studies at Gonzaga University while living at Bishop White Seminary. He graduated from Gonzaga in 1974 having earned a Bachelor of Arts in Philosophy. Fr. Mee was sent to Rome for his theological studies. He studied at the Pontifical University of St. Thomas Aquinas (where he earned an STB – Bachelor in Sacred Theology) and then Pontifical Gregorian University. Later Fr. Mee would return to Rome and receive both a Licentiate in Theology and a Doctorate of Sacred Theology from the College of Sant'Anselmo.
Father Mee was ordained in 1978 at Sacred Heart Church. In his priestly ministry, he has been a teacher at DeSales High School in Walla Walla, the spiritual director at Bishop White Seminary, and has served with the Spokane Diocese mission in Guatemala for six years. Most recently, he has served for eight years as pastor at St. Peter Parish in Spokane. He also spent twenty years as a member of the Benedictine monastic community at Mount Angel Abbey in Oregon, where he was a professor of Sacramental Theology.
Fr. Mee is currently the pastor of St. Augustine Parish, Spokane and Vicar for Finance for the Catholic Diocese of Spokane. On a personal note, Fr. Mee enjoys biking, birdwatching, and golf.
Father Brian Mee has hosted 52 Episodes.